Quote:
1) K8061 analogue input range is (0-5V) or (0-10V)
I'm going to use load cells as analogue inputs, but the load cell's output is very small (mv)
Can the card sense this small input or does it need to be amplified firest?
If it needs an amplifier, is it ready to buy or have to be done?
You need an external amplifier.
Sorry but such amplifier is not available as ready built version.
Quote:
2) K8061 digital output maximum is (50V / 100 mA)
I'm going to use a motor with 24V and 4 W, so the current is 0.16666 A
Is it OK or what can I do?
(I have another motor 18V / 57rpm and I don't know if I can use it with the K8061 board)
You may have to use an external power transistor.
Here are some circuit examples: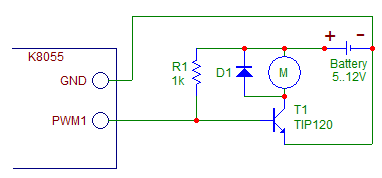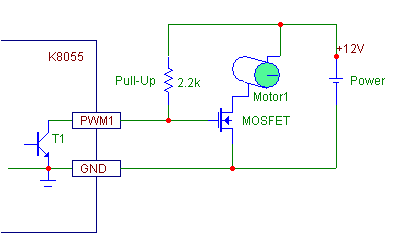 (The transistor array used at the digital output of the K8061 is specified to 500mA max. There is safety margin in the specification 100mA of the K8061.)
Quote:
3) I have bought temperature sensor kit K6001, its output is 15mA current loop
How can i use it as analogue input to the K8061 as its analogue input's range is (0-5V) or (0-10V)
Use the 0-5V range and add a resistor (e.g. 200 ohm) in parallel to the input. Feed the 15mA output current of the sensor through this resistor. You'll get 3V input voltage to the analog input.